ProLiant Servers
ProLiant Servers provide a complete infrastructure that support both your business objectives and your business growth.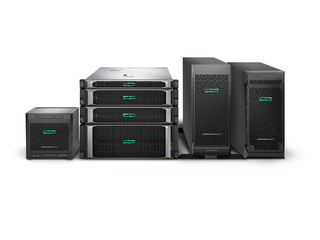 Processor

AMD

Processor family

AMD EPYC™ 7000 Series

Processor core available

32 or 24 or 16 or 8, per processor, depending on model

Maximum memory

4.0 TB with 128 GB DDR4 [2]

Memory slots

32

Drive supported

8 or 12 LFF SAS/SATA/SSD 8, 10, 16, 18 or 24 SFF SAS/SATA/SSD 6 SFF rear drive optional or 3 LFF rear drive optional and 2 SFF rear drive optional 24 SFF NVMe optional NVMe support via Express Bay will limit maximum drive capacity

Tray blanks

For optimum cooling solution, an HPE Apollo a6000 Chassis requires that all single slot trays are populated with either a server or an HPE Apollo Server Tray Blank Kit.

Chassis fan

Each HPE Apollo a6000 Chassis supports 5 dual rotor 80mm hot-plug redundant fans for improved cooling solution.

Power supply

Each HPE Apollo 6000 Power Shelf can support up to 6 power supplies (2650W or 2400W power supply option) with a max power of 15.9kW or 14.4kW respectively.

Input

Choice of a single-phase or three-phase, 200VAC to 240VAC

Output

Up to 15.9kW

Power supply

Up to six (6) modular power supplies
*
Price may vary based on local reseller.