Keep applications online, non-stop with HPE Peer Persistence
[55:24]
English ( United Kingdom )
Paired arrays located at metropolitan distances present a continuous storage system to hosts connected to them. Maximise your use of IT assets by using both primary and DR site actively, transparently migrating applications to balance the load.

Browse Videos
An introduction to HPE's storage strategy - The Intelligent Data Platform
English ( United Kingdom )
uploaded 13 December 2019
0 View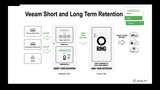 Répondez aux enjeux du stockage multicloud à grande échelle avec HPE & Scality !
French ( France )
uploaded 03 December 2019
6 Views
HPE InfoSight powering self-driven autonomous data-center
English ( United States )
uploaded 26 November 2019
7 Views
Captions available
Transform your ownership experience with timeless storage
English ( United States )
uploaded 26 November 2019
3 Views
Captions available
Redefine what's possible in mission-critical storage with HPE Primera
English ( United States )
uploaded 26 November 2019
6 Views
Captions available
How HPE InfoSight leverages AI/ML to deliver an intelligent data platform
English ( United States )
uploaded 26 November 2019
3 Views
Captions available
HPE Nimble Storage dHCI: Flexibility of converged, simplicity of HCI
English ( United States )
uploaded 26 November 2019
17 Views
Captions available
Using ML with HPE InfoSight to solve performance challenges
English ( United States )
uploaded 26 November 2019
4 Views
Captions available
True hybrid cloud enabled by Kubernetes, HPE Nimble Storage dHCI, and HPE Cloud Volumes (Lightboard)
English ( United States )
uploaded 26 November 2019
5 Views
Captions available