Sorry, the video you're looking for isn't here.
It may have been moved to a new location or removed from our system.
Please double check the URL and try again.
Browse Videos
Workload Management with HPE Performance Cluster Manager
English ( United States )
uploaded 20 September 2019
0 View
Ever Wondered What Digital Transformation Sounds Like?
English ( United Kingdom )
uploaded 18 September 2019
0 View
Captions available
Welcome to The HPE Digital Symphony
English ( United Kingdom )
uploaded 18 September 2019
0 View
Captions available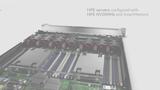 HPE Persistent Memory Product Demo
English ( United States )
uploaded 17 September 2019
10 Views
A star is Born – HPE Primera
French ( France )
uploaded 17 September 2019
3 Views
Texmark Chemicals: IIoT at the edge enables Refinery of the Future
English ( United States )
uploaded 17 September 2019
2 Views
Aruba Instant On – Unlock More Small Business Wi-Fi Opportunities
English ( United Kingdom )
uploaded 16 September 2019
31 Views
The latest HPE OneView innovations
English ( United States )
uploaded 13 September 2019
3 Views
Cloudonomics: Helping you understanding and innovate a "pay-as-you-go" approach to IT infrastructure
English ( United States )
uploaded 13 September 2019
1 View