HPE Synergy
An integrated composable infrastructure platform that bridges traditional and new applications, empowering IT to instantly and continuously create and deliver value.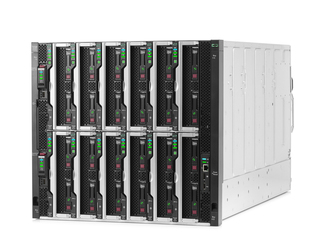 System fan features

Not applicable (virtual fan control)

BladeSystem supported

HPE Synergy 12000 Frame

Management features

HPE Synergy 4-port Frame Link Module comes with associated firmware and provides iLO remote access. Hardware features include: (1) Ethernet link port @ 10 Gbps, (1) Ethernet management port @ 1/10 Gbps, (2) Appliance ports @ 10 Gbps, and (1) USB 2.0 port.