ProLiant Servers
ProLiant Servers provide a complete infrastructure that support both your business objectives and your business growth.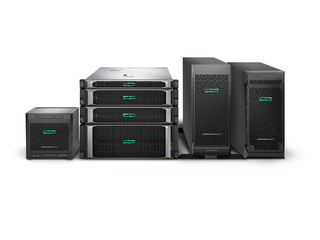 Processor

AMD

Processor family

AMD EPYC™ 7000 Series

Processor core available

32 or 24 or 16 or 8, depending on processor

Maximum memory

2.0 TB with 128 GB DDR4

Memory slots

16

Drive type

4 LFF SAS/SATA/SSD, 8 SFF SAS/SATA/SSD with Optional 2 SFF SAS/SATA/SSD or 2 SFF NVMe, 8 SFF NVMe with Optional 2 SFF NVMe or 2 SFF SAS/SATA/SSD depending on model

Tray blanks

For optimum cooling solution, an HPE Apollo a6000 Chassis requires that all single slot trays are populated with either a server or an HPE Apollo Server Tray Blank Kit.

Chassis fan

Each HPE Apollo a6000 Chassis supports 5 dual rotor 80mm hot-plug redundant fans for improved cooling solution.

Power supply

Each HPE Apollo 6000 Power Shelf can support up to 6 power supplies (2650W or 2400W power supply option) with a max power of 15.9kW or 14.4kW respectively.

Input

Choice of a single-phase or three-phase, 200VAC to 240VAC

Output

Up to 15.9kW

Power supply

Up to six (6) modular power supplies
*
Price may vary based on local reseller.